Pastor's Letter

Dear Friend,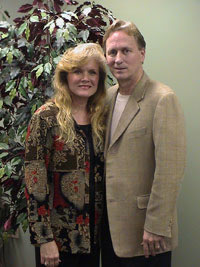 Dr. Mike & Hazel Simons
I believe in a God that still is able to work miracles.
Not only do I believe in miracles, I personally have seen some of the greatest miracles that you could imagine.
I have personally prayed for and seen blinded eyes open, deaf ears unstopped, lame people walk by the power of God.
I will never forget watching God heal a young 26-year-old lady who had never spoken a word in her life. When I commanded her to speak, the power of God healed her and she began to speak instantly. She is still healed today because of the power of the name of Jesus Christ.
Also, I am reminded of the little nine-month-old baby that was born without the roof of her mouth. I breathed into this baby's mouth in the name of Jesus Christ and instantly God created the roof of that baby's mouth.
Time would fail me to tell of all the peoples lives that have been changed for the good by the power of Almighty God.
Alcoholics and drug addicts delivered, people set free from demon spirits, broken and shattered lives put back together and financial breakthroughs.
I believe that God has sent me with a word for you! Pay close attention, this is important to you!
The bible says in Hebrews 13:8 "Jesus Christ is the same yesterday and today and forever." If God ever did it once, he can do it again!
My friend, God wants you to have his best! 3 John 2 declares, "Beloved, I wish above all things that thou mayest prosper and be in health, even as thy soul prospereth." (KJV).
I know God has anointed me to pray for you.
"Therefore I say to you, whatever things you ask when you pray, believe that you receive them, and you will have them." -- Mark 11:24 (NKJV)
Let's you and I join together and believe for God's best in your life.
Don't delay, do it today! No matter what your need is we are here for you.
Your Friend,
Dr. Mike Simons